SMALL HOLE EDM
Our shop is equipped with a Top EDM small hole EDM giving us the ability to drill deep, very small holes in most workpieces with speed and accuracy leaving virtually no burr. Our machine is equipped with an automatic electrode feeder making B&B your perfect choice for your production small hole work.
Hole sizes from .013 to .236
XY travel from 7.8″ to 11.8″
Maximum workpiece weight – 1,300 lbs.
SMALL HOLE EDM SAMPLE: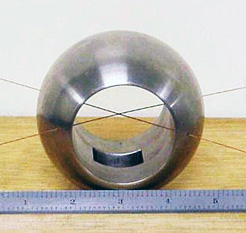 .020 diameter holes through 3″ ball